COVID-19 Reports & Resources
Children's Hospitals Association Information
Children's hospitals and health systems are continuing to meet the health care needs of children and their communities during the pandemic. Children's Hospital Association continues to monitor the situation and work with member hospitals to share information, experiences and best practices. Learn more here.
Florida Pediatric Covid Hospitalization Data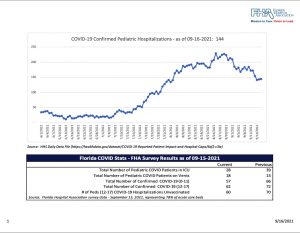 The Florida Hospital Association conducts a twice weekly survey of Florida hospital data regarding Covid. Data also is collected from HHS. At the request of the Florida Association of Children's Hospital, FHA also collects pediatric Covid data. The most recent is available here. Note: The pediatric data is collected from all Florida hospitals responding, not just children's hospitals. There are 119 hospitalized pediatric Covid patients as of 9/15/21, which is a decrease of 19 patients from the previous survey. Of the pediatric hospitalizations, a less than a quarter (23%) are in ICU. 15% are are on vents. Less than 1% of Florida's Covid hospitalizations are of children under 18.
According to the Centers for Disease Control (CDC), kids account for a very small number (1.8%) of Covid hospitalizations nationwide. This is attributed to the fact that the virus just doesn't hit children as hard as adults, they are less likely to get infected with Covid than other age groups, and if infected, they generally have milder symptoms. Out of more than 520,000 Covid deaths the CDC has demographic data on in the U.S., fewer than 500 were under 18.
Some children with Covid still an end up in the hospital. Some 4,404 children nationwide have gotten a rare, but serious, inflammatory syndrome caused by Covid known as MIS-C; 37 have died from it, according to the CDC.
Record Deaths and Child Cases in State